Years of flaking experience have gone into the development of the worlds most advanced steam grain flaking system.
Get a Quote For Your Project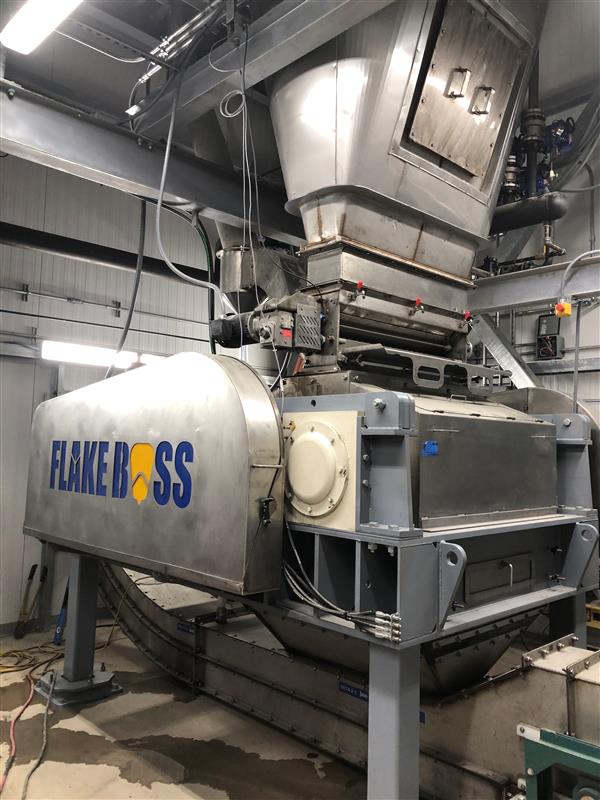 What makes Flake Boss 2.0 a cut above the rest?
The Flake BOSS 2.0 is the latest generation of a revolutionary design that has changed how flaking has been approached for over the last 100 years. Our advanced system is a collection of equipment and automation applications designed to provide a superior steam flaked grain. By gathering accurate analytical data and then analyzing this information, we make precise adjustments to the various processes involved in the production of steam flaked grain, eliminating operator error and inconsistency. Our experienced designers and programmers work hard to develop a control system that provides a higher degree of quality in the finished product. Take a look at our package systems below.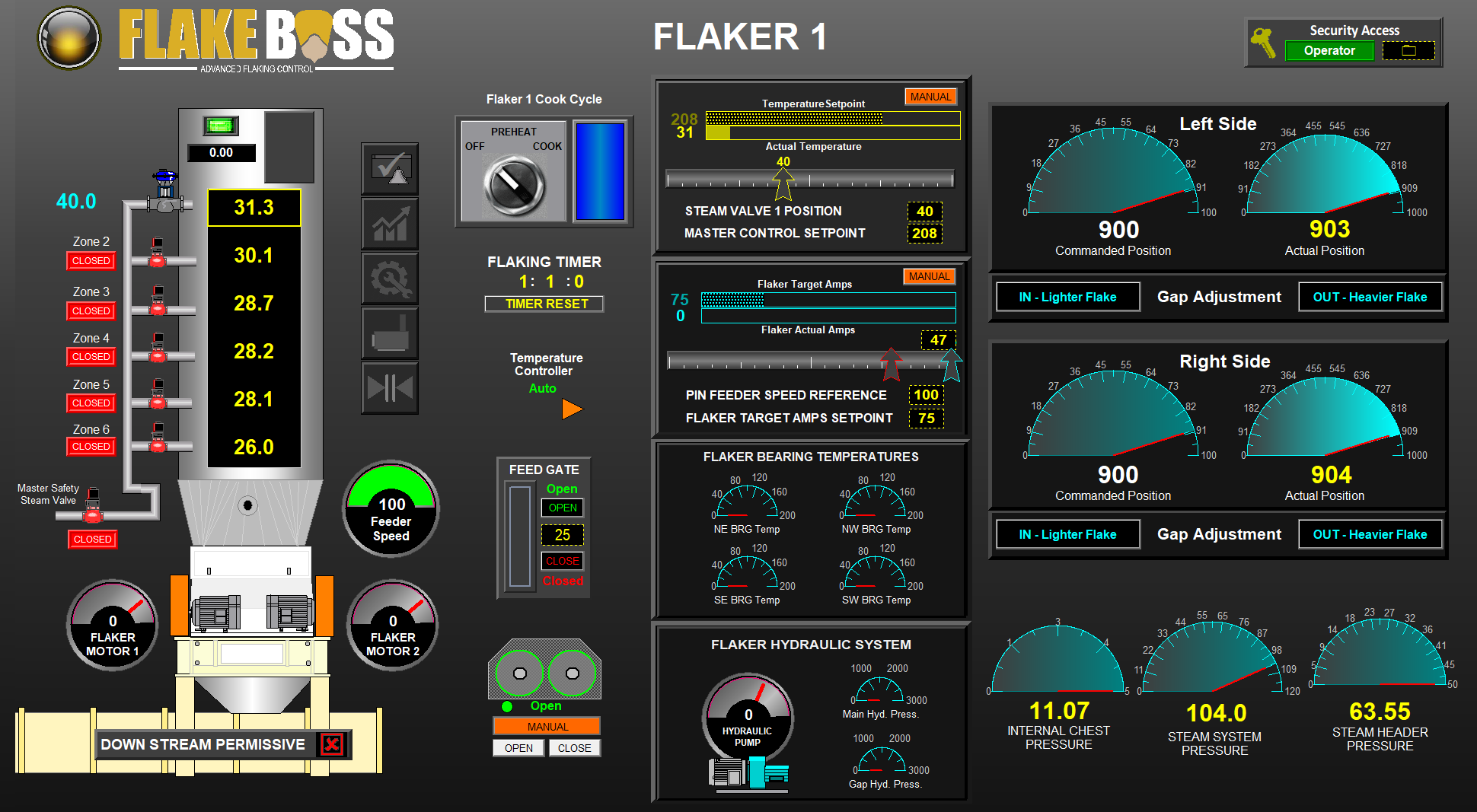 FlakeBoss 2.0 - Basic Control System
The Flake Boss 2.0 – Basic Control System is the foundation of the powerful Flake Boss system. Built on the principles of the original Flake Boss system, Flake Boss 2.0 incorporates new logic routines for standardization that ensures reliability for each install. Flake Boss 2.0 utilizes all the robust features of the Rockwell Automation family of automation controls and software. This Basic Control System is the frontline control for motors and safety apparatuses.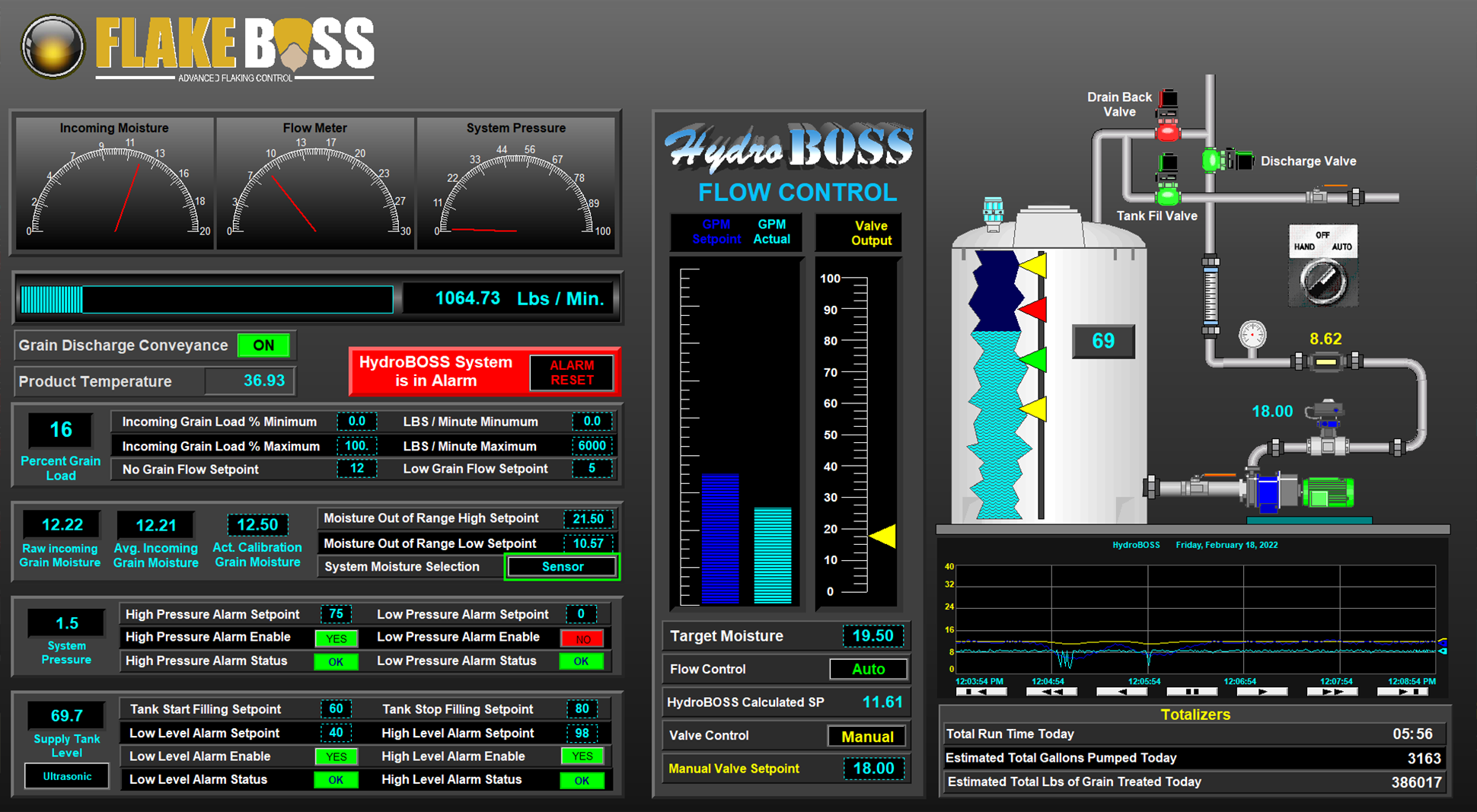 HydroBOSS Grain Moisture
HydroBoss is a grain pre-conditioning system. The unique design of HydroBoss allows us to accurately add moisture content to existing grains without the use of added chemicals such as surfactant. This reduces customer cost as well as increasing overall gains through added moisture percentage. Our unparalleled use of microwave technology to assess incoming grain moisture percentage allows HydroBoss to accurately calculate the necessary addition of water to increase moisture percentages.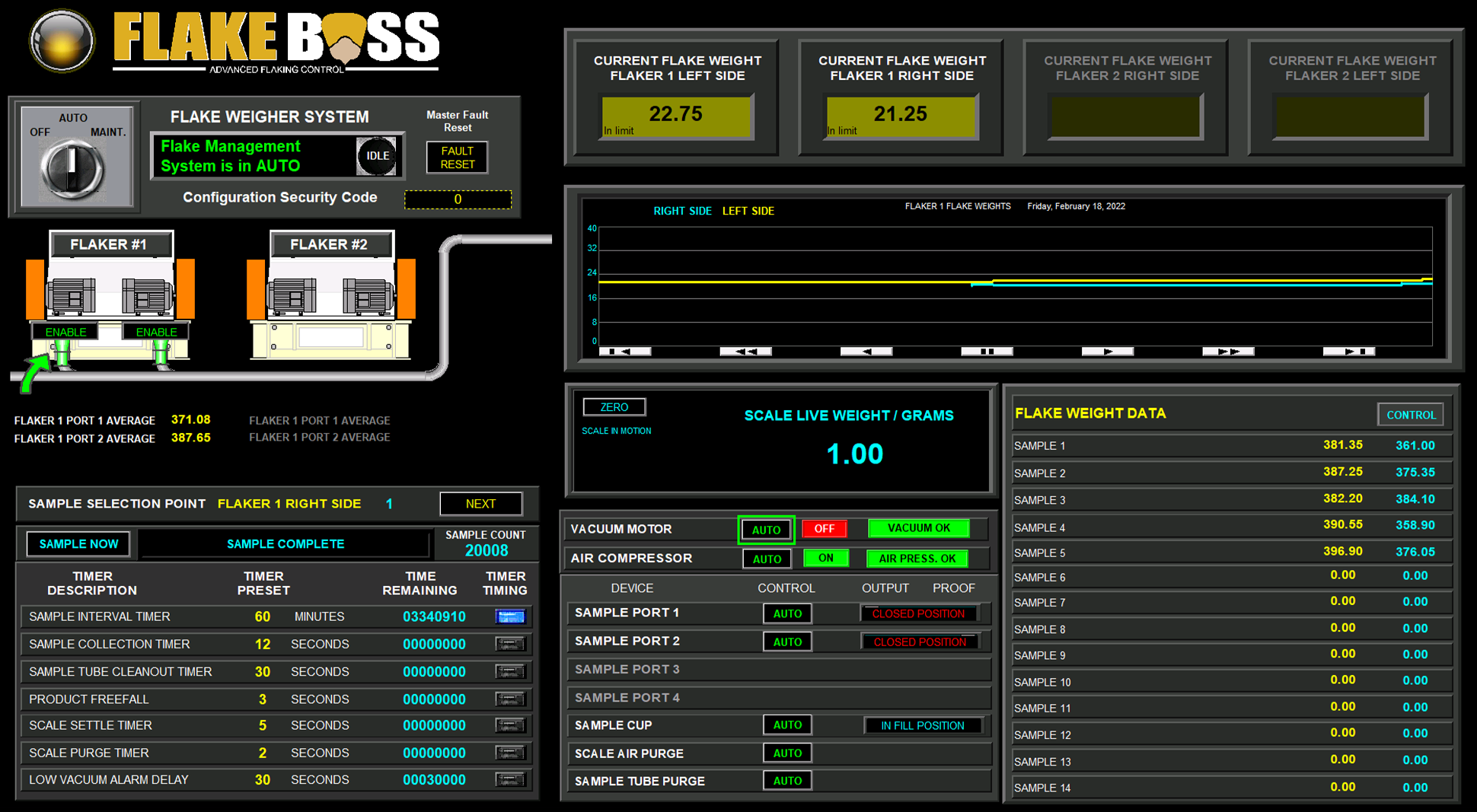 Flake Management System
The Flake Boss – Flake Management System is the heart of the flaking process. We have re-engineered flaking controls for feeder speed, gap control, amp monitoring, and grain routing. The Flake Management System controls the flow of grain through our patented Flake Boss flaking mill and steam chest. Our management of Retention Time ensures the points of the flaking triangle, Temperature – Pressure – Moisture, are utilized to their fullest potential.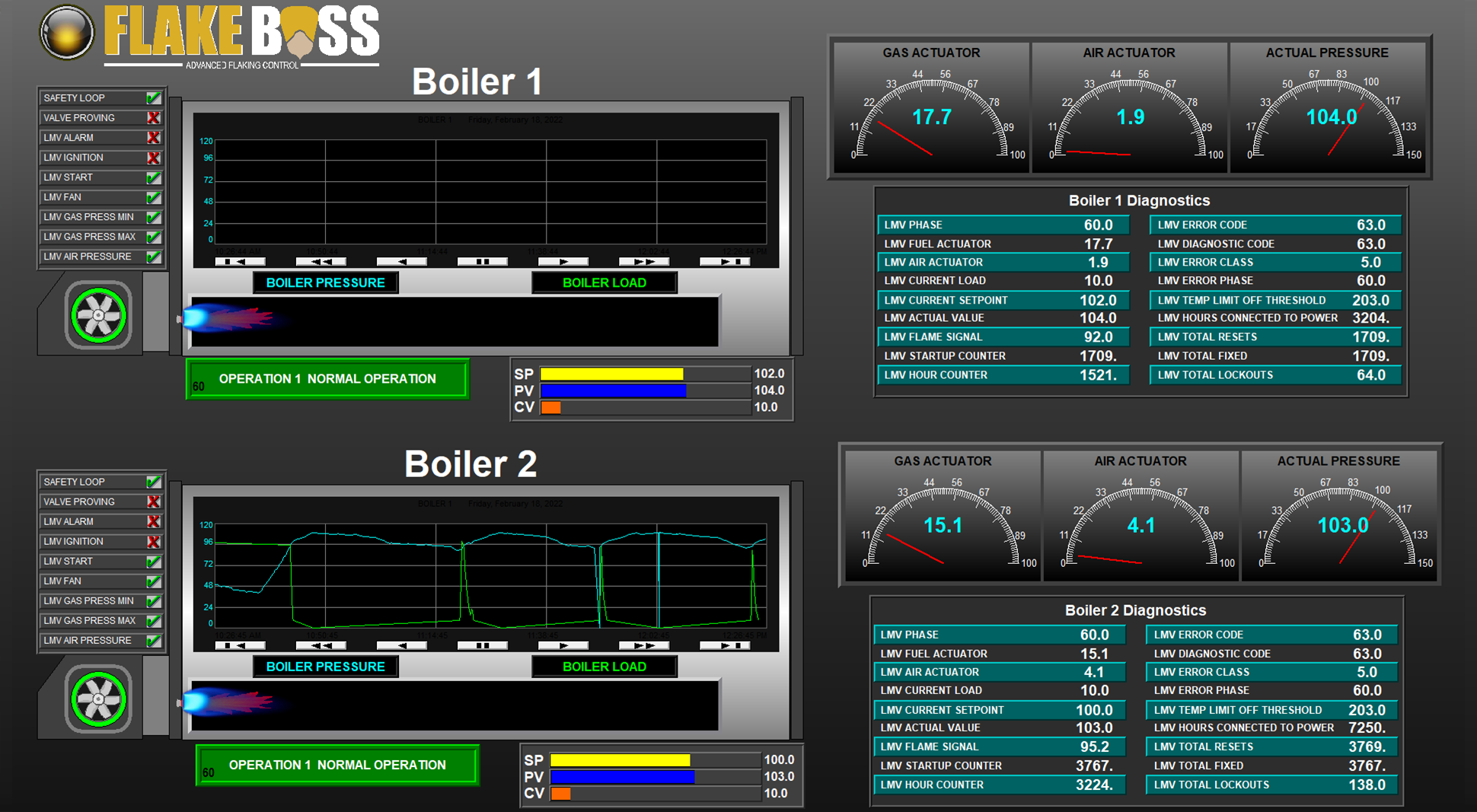 Tank Levels
The Flake Boss 2.0 System utilizes two types of tank level control, continuous level and point level. Continuous level control gives an immediate and accurate account of the amount of product in a bin at any given time. This data can be used to accurately monitor dry and liquid commodities for routing and inventory control. Point level control is essential to a safe and reliable system. Point level controls are used to prevent over-filling of commodity bins and tanks.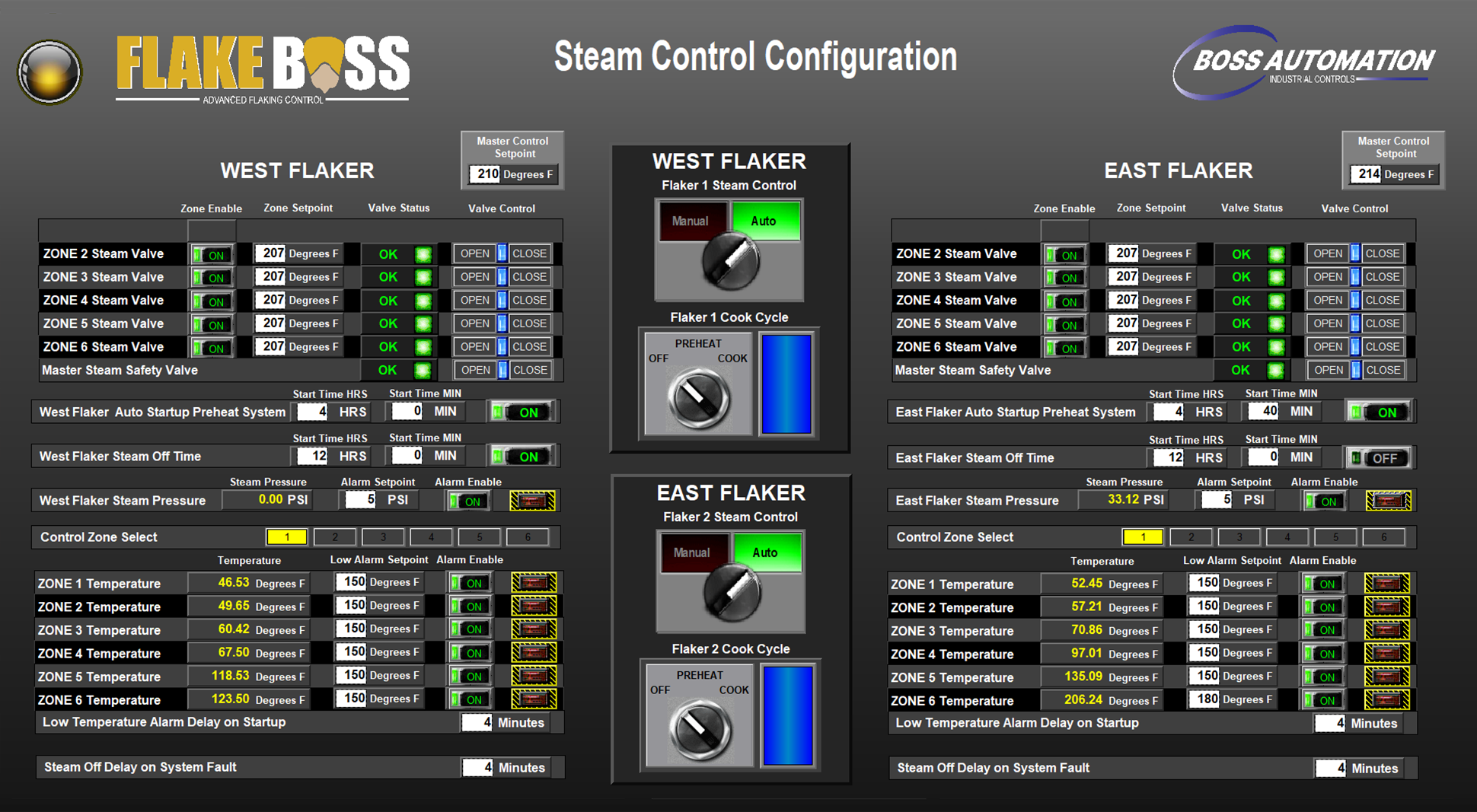 Steam Control System
The Steam Control system consists of independent zones (6-8 depending on size of flaker) that maintain the temperature of the grain within 1 degree Fahrenheit as it passes through the steam chest. We incorporate a High Volume/Low Pressure system that prevents our steam from turning into hot water. This allows us to deliver the highest BTU content of steam in the industry.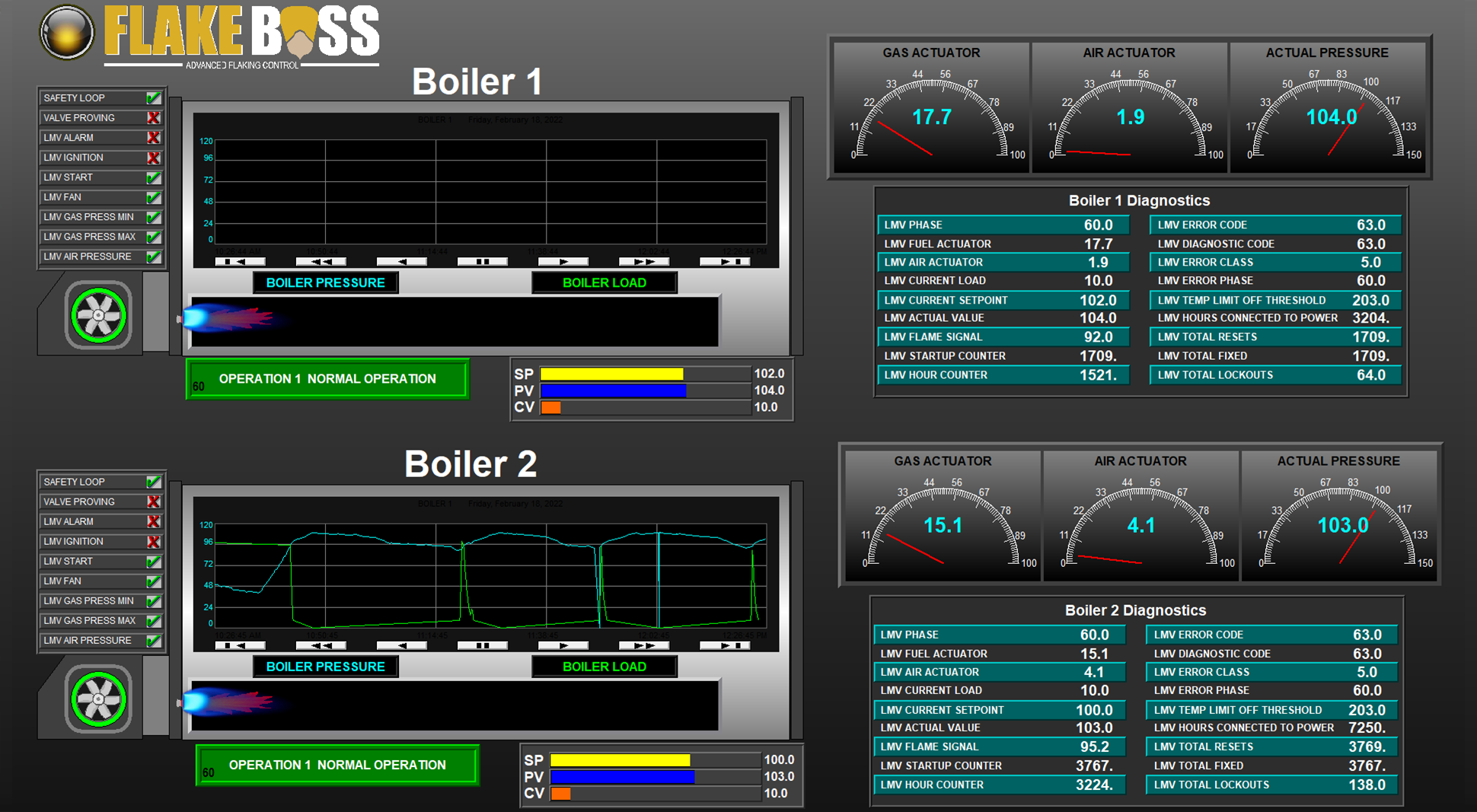 Boiler Management System
The Boiler Management System is a state of art control and alarm system for your boilers. All vital data concerning the boilers is displayed and logged for total boiler control. Boiler load and firing rate are displayed with historical trends for easy analysis. Critical alarms and data are logged to our cloud-based information center via DataBoss. From there, DataBoss makes this information available to operators on any smart device. The dashboards are easy to view and understand.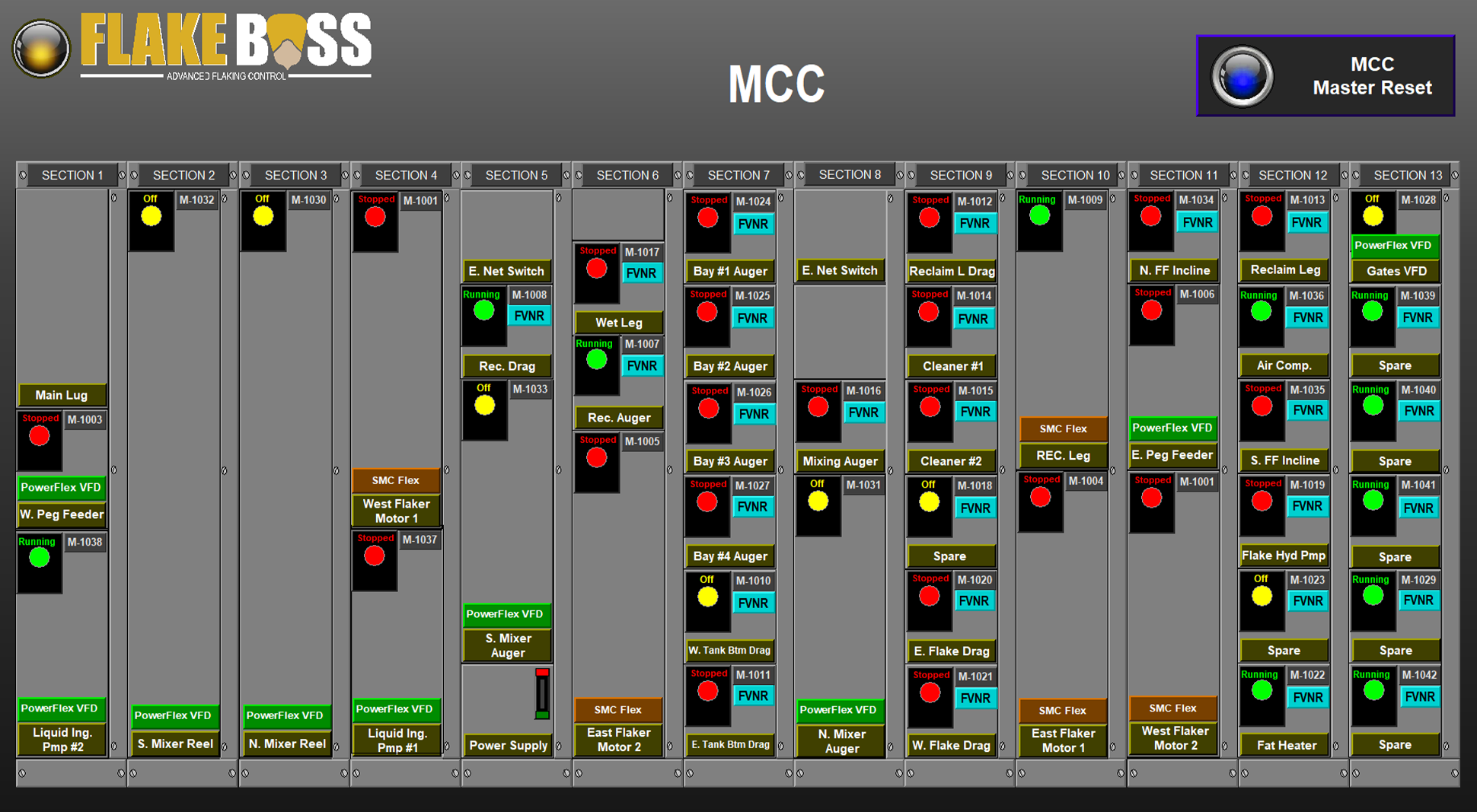 Motor Control Center
All our Motor Control Centers (MCC) are Rockwell Automation IntelliCENTERS®. The IntelliCENTER® EtherNet/IP MCC couples the reliability of the CENTERLINE 2100 MCC with robust EtherNet/IP network and Intelligent Motor Control (IMC) devices to deliver an effective and integrated motor control solution.
Boss Automation Industrial Controls
Preheating
At the preprogrammed time that the Mill's Operator sets, the FlakeBOSS 2.0 Automation system automatically enters into Preheat mode. The PLC will open the Master Steam Safety Valve as well as the appropriate Steam Header Control Valves, while monitoring pressures and checking for malfunctions.
This allows the Steam Chest to completely finish Preheating, even before the Operator arrives at the facility: all while continuously streaming cataloged temperature and pressure read-outs; allowing it to be monitored anywhere on a laptop or mobile device.
Once the Steam Chest has arrived at the desired preset temperature, the control system can either be set to hold in preheat mode, or to automatically cycle into cook mode, where it will begin feeding the Grain into the system.
Steam Cook Control
The FlakeBOSS 2.0 automated control system continually monitors the internal temperature of the grain in the Steam Chest with advanced digital temperature monitoring technology- all while giving you a live feed on this data in one central hub. The PLC then incorporates this data into precise PID calculations and makes precise adjustments to levels, so as to provide a very consistent and thorough cooking process. Consistency in this portion of the Steam Flaking process is one of the key factors to optimizing starch availabilities in the finished product, and Flake Boss 2.0 is designed to optimize the process to the nearest degree.
Flaker Startup
All equipment is automatically started from a centralized Graphical HMI Station that is controlled by the FlakeBOSS PLC. The PLC monitors every aspect of the system to make sure that all equipment is ready to run. All ancillary equipment such as hydraulic pumps or flake conveyors are automatically started simultaneously.
Flaking Speed Control
All changes made to the Flaking Speed are controlled by the FlakeBOSS 2.0 control system and are based on accurate analytical data. This data includes Flaker motor amps, Flaking pressure (actual psi of pressure being exerted between the rolls,) Flake Density, determined by an accurate weighing process.
These analytical inputs are used in a PID formula to calculate and control feeder speed.
Flake Density Monitoring
The FlakeBOSS 2.0 Flake management system automatically pulls a sample from each side of the flaker at a pre-programmed interval. This sample is then accurately weighed in a precise and consistent manner resulting in much tighter process.
Flake Density Control
The FlakeBOSS 2.0 Flake Management system analyzes the accurately weighed sample, then determines if the flake weight or density is within the acceptable limits of the the desired flake weight. If a change is needed, the PLC sends control signals to the automated gap control equipment- which in turn automatically makes changes the size of the roll gap in small incremental amounts.
After each adjustment, a new sample is automatically pulled and analyzed for accuracy and consistency- and then archived for posterity and future reference.
Conveyance Interlocking
The PLC monitors every aspect of the system to make sure that all equipment is ok to run.
All ancillary equipment such as hydraulic pump or flake conveyance are automatically monitored for run condition. In the event an unexpected shutdown occurs, the program will automatically shutdown the entire system in a controlled manner, and alert the operator of the problem with a variety of methods.